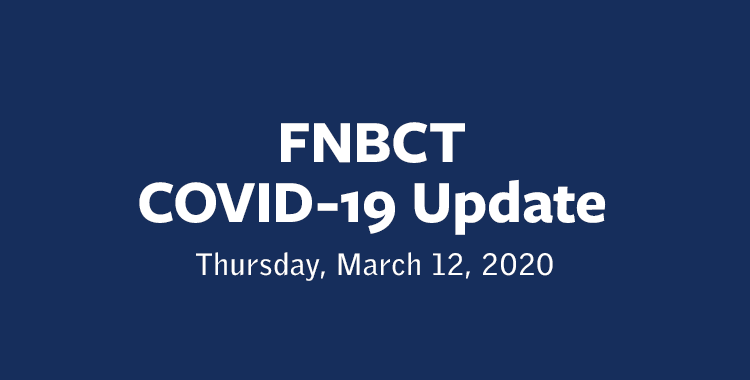 ---
At The First National Bank of Central Texas, the health of our employees and customers is our number one priority.
We understand the concern you might have regarding the coronavirus (COVID-19). With that in mind, we want to assure you that we are committed to being responsive to the needs of our customers and employees as the situation unfolds.
We encourage you to use FNBCT's digital tools for self-service banking. We offer online banking and mobile banking free* to our customers. You can check your account balances, transfer funds, pay bills, and deposit checks with these services.
If you haven't enrolled in online banking, we've made it easy for you: Enroll now. If you need assistance, please feel free to email or call us at 254-772-9330.
If you need to come to any of our banking centers, we encourage you to use our drive-thru lanes whenever possible. They are open 7:30 a.m. – 6:00 p.m. Monday-Friday at our Waco, Woodway-Hewitt, and China Spring Banking Centers. They are open 8:00 a.m. – 6:00 p.m. at our Mart and Hillsboro Banking Centers. As always, you can access cash from any of our ATM's 24/7.
Again, the health and safety of our employees and customers is our main concern. Our leadership team is monitoring the situation daily and we will continue to work to create a safe environment for everyone in our community.
For additional information about COVID-19, visit the Centers for Disease Control and Prevention.
*Cellular messaging and data rates apply.