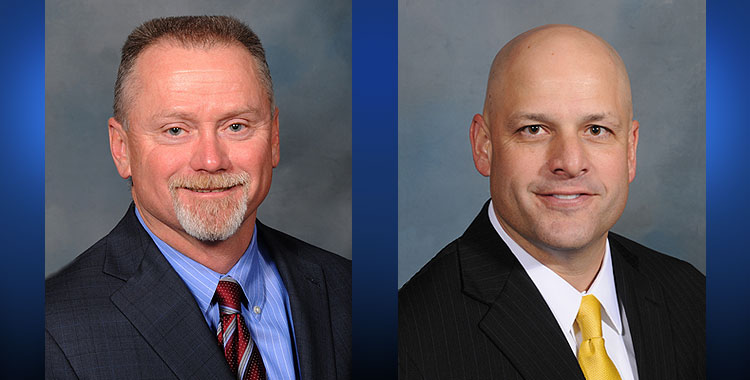 ---
The First National Bank of Central Texas Board of Directors is proud to announce that effective January 1, 2021 Joe Barrow will become the bank's Chairman and CEO and Sloan Kuehl will become the bank's President and Chief Lending Officer.
This action by the Board is occasioned by the fact that current President and CEO Randy Crawford will reach the age of 65 in early 2021. Crawford will assist with the transition through August of 2021. He will also remain on the bank's Board.
Current Board Chairman Monte Hulse will stay on the Bank's board and will continue in the role of Chairman and President of FCT Bancshares, which owns 100% of the First National Bank of Central Texas.
The Bank's Board of Directors feels strongly that Barrow and Kuehl will be a great team. Both are experienced and knowledgeable of the bank's customers and of this market.
I hired both of them right out of college, their first job," said Hulse. "This has been particularly gratifying for me to see their growth and development through the years. Joe and Sloan are good leaders and good bankers. Equally important, is their high character and integrity. The bank is in good hands."
Joe Barrow brings a wealth of banking experience to his new role of Chairman and CEO. He's been a community banker in Waco for 36 years. For 17 of those years he worked closely with Monte Hulse and Randy Crawford.
Since 2009 the Texas A&M graduate has served as President of the bank's Woodway/Hewitt Banking Center. While developing his own sizable and impressive loan portfolio, he also helped lead the bank's commercial lending efforts. Along the way he mentored countless young bankers. In 2016 he was chosen to become a member of the bank's Board of Directors.
Barrow has been a member of several local nonprofit boards. He takes particular pride in his time serving on the board of the YMCA, where he rose to become its Chair.
Joe and his wife Lesa are very involved in supporting The Cove and its mission to help homeless teens in Waco thrive.
He has served on the HOT Fair & Rodeo Board and the finance committee of Ridgewood Country Club. Barrow has also helped raise money for the Greater Waco Chamber of Commerce.
I am deeply honored and humbled to be selected to take over the leadership of The First National Bank of Central Texas.  Mr. Hulse, Randy Crawford, Jim Haller and the late Clyde Martin, have all had a positive impact on my Banking career," said Barrow. "Thank goodness I will have Mr. Hulse and Randy Crawford on the Board to lean on as we embark on this journey. They have provided sound leadership and set a solid foundation of meeting customers' needs quickly and professionally. Together with Sloan Kuehl, and the excellent management team and staff, we plan to remain the premier community bank in the area."
Sloan Kuehl has worked for Monte Hulse since 1992, where he started in the bank mail room. He quickly transitioned to the credit department and within a few years he joined the bank's team of lenders.  Kuehl was a part of the group that helped bring FNBCT's presence to Waco in 1996.  In the 24 years since, the Mary-Hardin Baylor graduate has grown into a highly respected commercial lender in Central Texas and beyond. For the past five years, Kuehl has—alongside Joe Barrow—jointly managed the bank's lending activities while also serving on the bank's Board of Directors.
Outside of the bank, Kuehl has been quick to lend his expertise to many local nonprofits. He has volunteered for the Providence Foundation since 2002 and currently serves on the Foundation's Executive Committee as Vice President.
Kuehl, a part-time rancher, is also very active in the HOT Fair & Rodeo. He currently serves on the rodeo committee and for years held leadership roles with both the Board and the Executive Committee.
Additionally, Kuehl serves as Vice President of the H&H Water Supply Corporation Board and is currently the Vice Chairman of the Region 12 Technology Foundation.
As I enter my 30th year as a community banker, I'm very excited about our leadership team and the opportunities that lie ahead of us," said Kuehl. "During my time working for Mr. Hulse, I have learned a great deal about leadership, banking and people.  His expectation of excellence has not only led to our bank's success, but has also set the stage for our team to continue to achieve great things for our shareholders, our employees, and our community.  I'm very honored—and thankful—to get the opportunity to help guide that future path and continue working with our great staff, as well as the people and businesses that we serve."
Randy Crawford has been a part of Monte Hulse's leadership team for over four decades. Crawford was part of the original group that helped move the bank's headquarters from Mart to Waco in 1996. During that time he has held many vital roles at the bank, including President and CEO. Since Crawford took over as President in 2014, the Bank's asset size has grown by over 45% to just over one billion dollars.
"Words fail for me to express my gratitude and appreciation to Randy Crawford," said Hulse. "We have worked together for over 40 years. His contribution to the growth and development of this bank is beyond measure. I am pleased that we will continue to benefit from his knowledge and insight through his Board membership."